Granex

Product Dimensions
Granex

is composed of either a chipboard, or MDF substrate, covered with a layer of polyester based solid surface all around. It is mainly used for kitchen countertops. Details of the internal dimensions are shown in the cross cut profile in the figure below.
Top coat solid surface thickness: 3mm

Solid surfaceEdge thickness: 6mm

Balancer solid surface thickness: 1mm

MDF or Chipboard substrate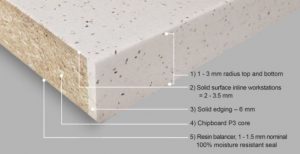 Granex

Ready to install, pre-fabricated countertops come in three standard thicknesses. The total thickness, depending on the thickness of the substrate, plus the thickness of solid surface coating, results to eight standard dimensions, shown in the table below.
| | | | | | |
| --- | --- | --- | --- | --- | --- |
| Granex | Substrate | Thickness | Width | Length | Weight |
| Kitchen Wall | MDF | 37 mm | 600 mm | 4100 mm | 75 kg |
| Kitchen Open | MDF | 37 mm | 650 mm | 4100 mm | 80 kg |
| Kitchen Island | MDF | 37 mm | 900 mm | 2400 mm | 77 kg |
| Kitchen Wall | MDF | 53 mm | 600 mm | 3600 mm | 85 kg |
| Kitchen Open | MDF | 53 mm | 650 mm | 3600 mm | 85 kg |
| Kitchen Island | MDF | 53 mm | 900 mm | 2400 mm | 80 kg |
| Kitchen Wall/Open | Chipboard | 43 mm | 650 mm | 4100 mm | 77 kg |
| Kitchen Island | Chipboard | 43 mm | 900 mm | 2400 mm | 75 kg |
| Backsplash | – | 10 mm | 65 mm | 3600 mm | 4.5 kg |
| Edge | – | 6 mm | 65 mm | 680 mm | 0.4 kg |